So when I wrote this I was being super organised and getting some posts ready 'just in case' the little one should arrive early, which of course he did. You can read about our experiences of the NICU here. Since he arrived so early I'm resigned (for the moment) to using my old changing bag 😦
I'm slightly obsessed at the moment, blame the nesting instinct, but if I'm going to have to give up my handbag for a few months I definitely want a pretty yet practical changing bag for the new arrival.  Here's some inspiration for some homemade solutions to my quandry.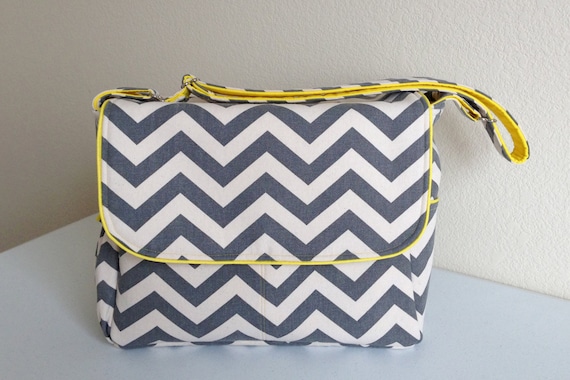 1. Fabrikadesign has this chevron changing bag.  It seems to have the perfect number of pockets (not too many, not too few), is stylish and not to big to lug around.
2. Diary of a Mad Crafter has this handy changing mat with a great tutorial.
3. Mendez Manor shares this great idea for keeping supplies in your car – I as always running out of things when I was out and about – this would solve that problem in an instant. I'll still be taking a changing bag with me though!
4. I think it'll be a while before I get away with taking such a small amount out with me (we're only just getting to that stage now with little B) but Junk Mail Gems has a tutorial for turning a placemat into this simple clutch.
5. I found this unlinked on Pinterest (please let me know if you know of the original post so I can credit it correctly). This would be such a simple idea for keeping everything organised.